A3 Flyer
The A3 flyer is the BIG daddy of flyer printing at 297 x 420mm. The A3 flyer very large as flyers go, and blurs the lines between flyer and poster! So what makes it a flyer and not a poster? Well, posters tend to only be one-sided as they are doing to be stuck on a wall, whereas the A3 flyer can be printed both sides. You make also want thicker paper stock or lamination, things that aren't as common with posters. These are also widely used as restaurant menus.
If you're not sure how big an A3 flyer is, just get two pieces of A4 paper and place them next to each other along their long edges. It should measure 297mm along the short edge and 420mm along the long edge. Yeah, it's big!
Make the BIGGEST first impression with a gigantic A3 flyer. A3 flyers are popular for things like dine-in menus and double-sided posters. A great way to show off when size really matters, great for menus, but not very pocketable if you want people to take them with them. This is flyer printing at its maximum.
Choose from eight paper-weights, from basic 90gsm to premium 450gsm paper stock. Choose the premium finish of silk paper stock or basic uncoated. If you want to add a bit more of a premium feel, we offer gloss, matte, or soft-touch lamination. Spot UV is available on some flyers.
A3 Flyer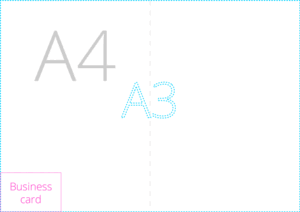 8 paper stocks from 90gsm to 450gsm
gloss, matte, and soft-touch lamination
100 qty +
Free Delivery